Sunbelt Software Roundup
Written by Gordon Fecyk, 6/23/2006
So! Our gold-partner security vendor doesn't know how to design products with security in mind.
SOME BACKGROUND IS NECESSARY before continuing this roundup.
Aaron Margosis is a Microsoft developer who runs a blog site covering non-admin product testing. Earlier in June, he suggested you are better off running as non-admin WITHOUT anti-virus than you are running as admin WITH anti-virus.
Hear, hear, I say. Pan-Am's done this since 2003, with perfect results.
Of course to cover his digital butt, Margosis went on to clarify: You are better protected if you have good, up-to-date anti-malware that works well as non-admin than if you have no anti-malware protection at all.
Well, that's arguable, but ok. And anti-virus vendors Symantec and McAfee produce desktop anti-virus software which works fine with limited accounts. They do so by running their critical processes as services, which have full access to the Windows system, rather than on the desktop of the user currently logged on.
With this in mind, let's turn our attention to Sunbelt Software. Earlier this week, Alex Eckelberry rampaged about Microsoft's Live OneCare anti-virus service, declaring that Microsoft practiced "predatory pricing" against other anti-virus firms. Sunbelt doesn't have an actual anti-virus product, but they do have anti-spyware, anti-spam, firewall and other enterprise security software. They are a Microsoft Gold-Certified Partner, which means they should know their stuff in their chosen market.
Putting Sunbelt's Gold Partner certification alongside Margosis' recommendations produced some very laughable results!

NOW ON TO THE ROUNDUP. As in previous product roundups, I've included the name, price, and a pass or fail rating. Failed products will have a corresponding entry in the Catalog. The difference is I've reviewed just Sunbelt's desktop products, as their enterprise products are meant for Windows Servers. I wonder if their desktop administration tools work...
CounterSpy 1.5.82: $19.95 Fail.
Kerio Firewall 4.3.246: $19.95 Pass.
iHateSpam 4.0.630: $19.95 Fail.
To be absolutely fair, other anti-spyware products have the same problems as CounterSpy, because they run on the desktop of the user currently logged on... well, except for Microsoft's Windows Defender: That works just fine! As does the anti-adware components of Norton Internet Security, McAfee Internet Security Suite... And I'm sure there are others.
I took some lovely screen shots during this evaluation: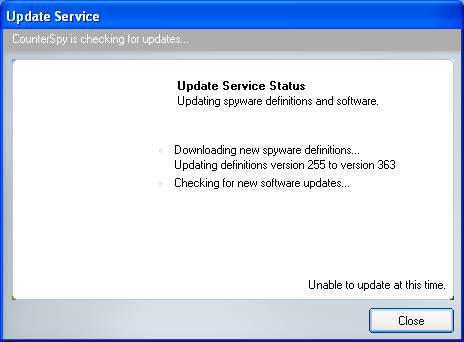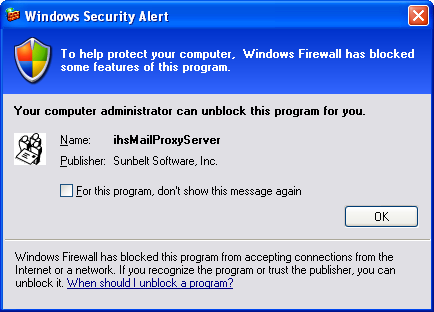 So! Our downtrodden, gold-partner, predatory priced, pot-calling-kettle-black security vendor doesn't know how to design products with security in mind. ... ooh, that's not funny. But it's laughable.
Side note to Sunbelt's lawyers: Yes, I read the EULA that came with these, and yes, I'm aware of section 3.1 which states you don't allow your competitors to evaluate your products. Pan-Am is not your competitor as we don't develop computer security products. And wasn't this shot down in New York State?
Related Links: